WHAT IS PALEOLITHIC NUTRITION?
HUNTING PICTURES

Hot off the presses, NeanderThin is now available in paperback
published by Saint Martins Press, New York, NY
ISBN 0-312-24338-3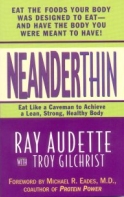 What is Paleolithic Nutrition?
It is, simply stated, the science of what our pre-historic ancestors ate for millions of years of hominid evolution-long before the development of civilization and agriculture approximately 10,000 years ago. You can understand Paleolithic (Old Stone Age) nutrition by considering the following statements:
Based on a Simple Premise
I. A natural diet is best

II. Nature is defined as the absence of technology

III. Absent technology, grains, beans, potatoes, milk and refined sugars are not
edible to any Primates (including Humans)
Leading to a Logical Conclusion
This simple logic is supported by thousands of anthropological, archaeological, and medical studies published in peer-reviewed journals. See the Neanderthin Bibliography for a complete list of
references upon which the authors relied in writing the book. Resources and Articles provide readily accessible sources of information on the subject of Paleolithic nutrition.
With Dramatically Beneficial Effects